Categories / International
Last week, protests at the Hong Kong Airport (HKG) ground traffic to a halt, delaying both passenger travel and belly cargo moving through the hub. While many forwarders scrambled to find alternate routings and confirm cargo planes were still moving in and out amid throngs of protesters, cargo planes took advantage of the empty runways and kept their cargo moving with few delays.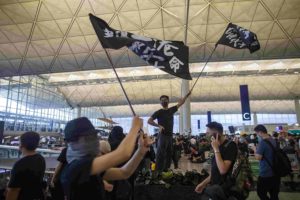 The protesters that prevented many travelers from reaching their destination didn't have the same impact on the cargo that moves via HKG on non-passenger flights. Air Cargo World magazine detailed only seven freighters that were cancelled or delayed during the shut-down. After two days of disruption, the protesters were removed by an injunction against the unlawful or willful obstruction of business at the airport.
Cathay Pacific, a supporter of the protests that gave employees the autonomy to join the protests and didn't stop them despite a significant drop in bookings has now seen their CEO Rupert Hogg and Chief Customer and Commercial Officer Paul Loo, resign from the company. Augustus Tang will be taking over both positions effective Monday, August 26, 2019. Cathay came under scrutiny when employees leaked travel details and a pilot was caught rioting.
Flight operations began recovering on August 14th with some reshuffling and arranging needed for passenger flights to catch up on delays. Though some freighters were cancelled during the recovery, they weren't related to the passenger flights and were grounded for other issues. While some freight was rerouted to Shenzhen and Guangzhou, the protests were not the cause. Scheduling, cost, and service considerations were the priority in those moves.
We at Everglory Logistics will be staying with this story as more news becomes available. Please be sure to stop back by our blog for updates and information on this situation and any developing stories to keep you abreast.