Along with the deployment of their new ACE processing system, Customs has announced that all ten of their Centers of Excellence and Expertise are now fully operational and are processing entry summaries. Importers whose commodities fall into one of the ten industries managed by the CEE's should expect to learn more about them and be expecting a call if they've not received one already.
The Centers of Excellence and Expertise are CBP's way of aggregating all of the knowledge and experience for ten primary focus industries in geographically located centers. Here is a map of center locations: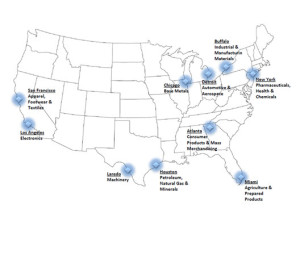 CBP 
announced through a Federal Register notice
 that these facilities are essentially national ports of entry. In fact, we have attached a slide from last week's NCBFAA Annual Conference presentation on the parallel structure of a CEE compared to a local port of entry.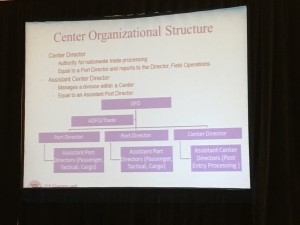 For importers whose merchandise falls into one of these categories, the CEE's will be managing at an account-level (for large importers) or at a commodity level. Releases 
today
 are being handled at the port where the entry is filed, however the entry summaries will be handled by commodity specialists within the CEE's.
These CEE's are also the place where we as your Customs broker will go and ask questions about issues like classification. CBP is drawing their expertise from across all of their ports of entry, so they are also using people in local ports of entry on a virtual basis as well. It is quite possible that the entry specialist in your port of entry is a member of the CEE with jurisdiction over your entries, so there will be little or no visible change.
CEE's will be contacting importers to schedule appointments to introduce themselves and kick-off the new processing which has been facilitated by the ACE platform. We cannot stress enough the importance of having us part of that kick-off meeting because it will be integral to both of us understanding how the relationship with a national entity changes instead of being focused solely on the local port where your entry is filed.
For more information about the CEE's and how they will operate, feel free to contact me or check out CBP's 
website
 for more information.