While Boston is the corporate headquarters of Everglory, we represent our clients across the United States with our two other branch offices located in Chicago and Los Angeles. We wanted to introduce you to those offices and their capabilities, as well as introduce you to their managers.
Chicago

Chicago, Everglory's gateway office in the Midwest focuses on imports from China. They have the capacity for large volumes air freight and very competitive pricing on ocean freight. "We can service the world," said Chicago Logistics Director Kent Tsai, "but we have chosen to define our strength and promote those segments with which we can bring the best value and expertise to our customers."
After two years in the Chicago area and in sync with the fifth anniversary of the Boston head office , Everglory Chicago is expanding in 2016. They have just added another sales person and there is already a plan to strengthen the customer service team to accommodate growth. The goal is to grow quickly but steadily. "It's all about management. Boston channels a positive energy down and really promotes a team spirit," said Tsai. "They have invested in several programs that will benefit the sales team and the customers and they are making the growth exciting and challenging."
With the proper resources, Everglory Chicago manages to tailor-make their customers' logistics needs. No cargo is too big and no job is too small. "With tight knit communication between all offices globally, we go above and beyond to do everything we can to provide the best SERVICE to our customers as possible. We are available around the clock if needed. Our culture is to work a little harder trying beat our competitors and to be the best in what we are doing." concluded Tsai.
Los Angeles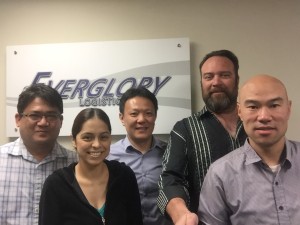 With a strong focus on ocean imports, the Los Angeles branch of Everglory understands the unique West Coast challenges. After a tough start to 2015, the Port of Los Angeles, the nation's busiest port is focused on the future and growth and we are aggressively doing the same at Everglory. Our Los Angeles office is a diverse team that can conduct business in Spanish, English, Tagalog, Vietnamese, Indonesian, Taiwanese, and Mandarin. It may be a surprise to know there are only eight people on staff because those eight people are all cross trained so there is no lapse in service. Everglory is proud to have fully trained operations people to import ocean cargo, export air freight, and even manage bonded truck cargo headed to Tijuana, Mexico for disbursement into Central and South America.
"We're in LA, so everyone understands that we are accommodating, calm, and friendly," says West Coast Logistics Director Ken Thoi. "We have all this beautiful weather and we're always in a good mood and I think our clients pick up on that attitude. This office is excited about momentum of our company in all offices. We are updating all our technology and tools and have just acquired a customs brokerage. It's an exciting time here."
Part of the excitement is from growing from a two person opening staff to a current roster of eight, with another sales person to hopefully join soon. Los Angeles too, holds tight to the personal touch ideals of being part of Everglory. "We make sure when someone calls, they reach us directly and as we strive to always answer the phone and handle situations immediately. Clients understand that when they call us, we will be there with them until everything is settled."